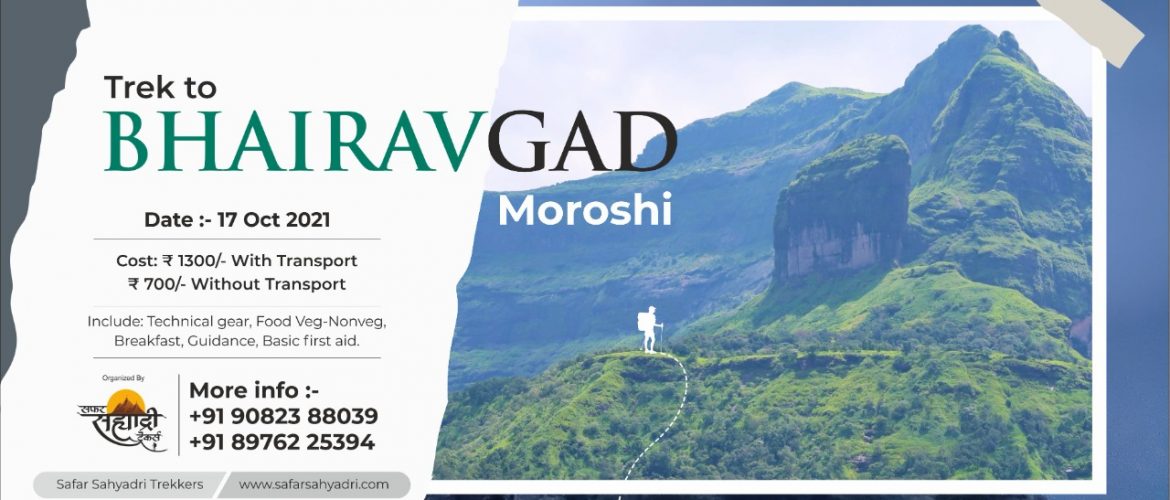 Moroshi Bhairavgad Adventure Trek
22:00 to 21:00 -
16th October 2021
Dear Traveler's
We Safar Sahyadri Trekkers (SST) are Happy to Invite You All For Moroshi Bhairavgad Adventure Trek on 17 October 2021.
Trek Name :Moroshi Bhairavgad
Location :- Moroshi
Grade :- Hard
Endurance :-Hard
▪︎ About▪︎ :-
Bhairavgad is one of the thrilling trek. Height of this fort is 2835 from Sea level this fort. The Sahyadri Mountain range is made by lawa ras and Bhairavgad is example of one of the geological structure called "Dyke". It will be a good opportunity to the trekkers who wants to try there hands in Climbing there are two routes to climb this fort,1st one is difficult because its straight wall and recently bolted by Safe climbing initiative and other one is from right side of the wall through rock cut steps this is the easy route to climb (this one will be followed on trek)
First come first basis.
(Only 30 seats per batch)
The itinerary for the event is as follow:-
(Day 0 Saturday 16 Oct 2021)
▪︎Meeting point▪︎ :
Borivali National Park (Main Gate)
Timing :10:00pm
Pickup points will be Borivali-Andheri-sion-Thane-kalyan
Time will be share separately
Highway to Highway
(Day 1 Sunday 17 October 2021 )
Reach Base village by 03.00am
03.30am Have bf/tea and freshen up
& start Night trek immediately.
5.30Am Reach rock climbing patch and rest.
we will start ascending by 7.00am sharp after short brief…
09.00Am Bhairavgad summit & explore
10:30 am – Start rappelling and descend to Moroshi
01:00 pm – Reach base village &
Lunch (Veg-Nonveg)
4.00pm start Reurn journey to Mumbai.
09.00pm rich mumbai (Approx)
(Depending on Traffic )
Trek end with happy memories
▪︎ Trek Cost ▪︎
Cost – Rs.1300/ with transport
700/ own transport
Advance Fee 500/compulsory
(Non Refundable)
No Discount Available
▪︎ Charges include ▪︎
Mumbai to moroshi transport by non ac private bus.
Sunday :-Tea & Kandapohe,
Lunch :- Veg-Nonveg
Others – Guidance, Technical support Charges, Expertise and Basic first aid.
▪︎Charges Exclude▪︎ :
Personal exp,Anything Not mention in Include.
Kindly transfer Your Trek fee below Account Details.
▪︎Bank Account Details ▪︎
Saraswat Bank
Name : KIRAN PRAKASH BHALEKAR
Account No : 449203100000874
IFSC code : SRCB0000449
Branch – Pump House, Andheri
Google Pay/Phone Pay-9082388039
▪︎ Things To Carry▪︎
All items below are compulsory..
1)Two Mask and Sanitizers
(Compulsory & Keep it handy)
2)Good grip shoes,sliper(Compulsory
( floaters are not allowed)
3)A bottle of water (2 ltr) compulsory
4)camera(optional), Avoid wearing Gold and other jewelry(at own risk)
5) Personal medicine & plastic bag,odomas or same brand,Torch,Rainkot
6)Extra pair of cloths if required by you. (Double Wrap in plastic bag avoid drenched)
7)Any one original photo ID proof
8)Some ready eat food like plum cake, biscuits, fruits,Paratha/Thepala/Boiled Eggs etc,Glucon-D or Electrol
9)Full Sleeves T-Shirt & Full Trek Pant.
▪︎ Rules & Regulations ▪︎
1)Any changes in the plans will be redirected by organizers in a emergency situations.
2)In case if any individual / group unable to attend event at last moment then no refund will provided.
3)Event schedule are tentative basis as if many change, depend on various factors (meeting/traffic/trek time) etc
4)It is mandatory for all of us to wear masks while traveling and wandering. Also bring your own sanitizer, mask.
5)Avoid going to any places, local huts houses or try to communicate with locals.
6)For confirmation of seat advance booking required.
7) The leader's decision will be final and binding on all members.
STRICTLY NOT ALLOWED ANY KIND OF TOBACCO,ALCOHOL, DRUGS.
Do feel free to contact any of us for any queries/clarification.
We recommend you to please take c
are while walking/Trekking//Tour Wearing of any valuables, ornaments, jewelry etc. is prohibited. Organizers are not responsible for any accident or compensation in whatsoever manner.Do not carry valuable,unnecessary things for Trek.Do not go to any risky place , you should follow rules set by organizers. Organizers will not be responsible for any loss during trek.Respect Nature,History, Local Culture And Enjoy the Trek.
Regards
Safar sahyadri Trekkers
www.safarsahyadri.com
https://www.facebook.com/safarsahyadri/
https://www.facebook.com/safarsahyadri.trekkers
https://www.instagram.com/safarsahydri
http://allevents.by/Safarsahyadri/
Kiran bhalekar – 9082388039
Tushar shingare- 8976225394
Amar Gorule – 8779417367