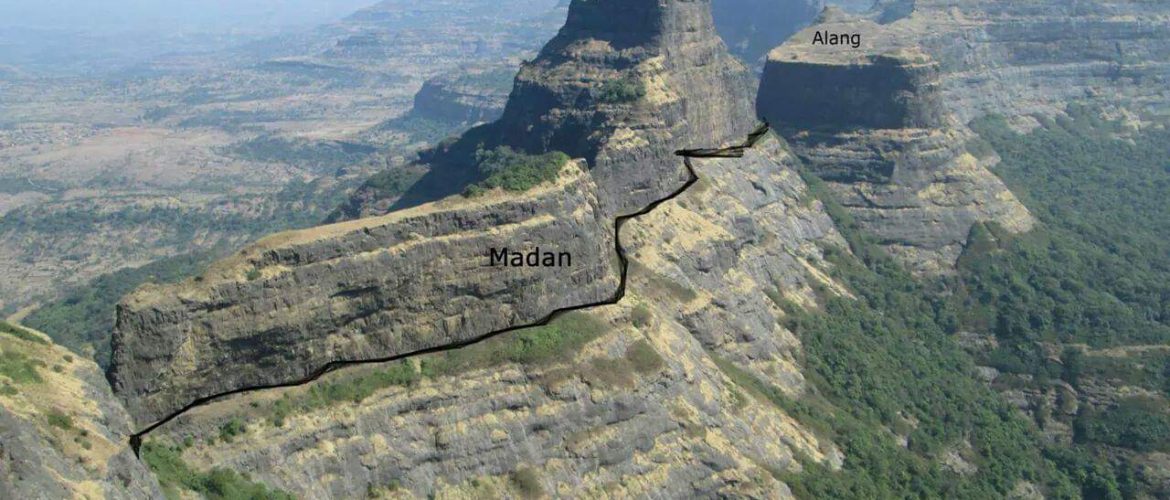 Safar sahyadri Trek To Alang Madan Kulang
10:00
18th October 2019
to 18:00
20th October 2019
Dear Traveler's
We Safar Sahyadri Trekkers (SST) are Happy to Invite You All For Thrilling Trek To Alang-Madan-Kulang (AMK) On 19,20 October 2019
Fort Name: Alang-Madan-Kulang
Height: Alang :- 4852 feet, Madan :- 4841 feet, Kulang :- 4822 feet
Grade: Hard
Endurance level:- Very High
● Information ●
Alang Fort (also Alangad) is a fort in Nashik district, Maharashtra, It is one of the three forts, the others being Madangad and Kulang, in the Kalsubai range of the Western Ghats. Alang, Madan and Kulang, the forts situated in Kalasubai range, are the most difficult forts in Nasik District. Dense forest and less population have made these treks difficult. These three forts are little neglected due to very heavy rain and difficult as well as confusing ways to go.
The A-M-K, Alang Madan Kulang trio fort is a test of your confidence,endurance, patience, vertigo, laughter, thrill, balance, physical and mental fitness. four major rock patches jungle walk rock climbing. A must do trek for every Trekker
The itinerary for the event is as follow :
We will be leaving by Second Last Fast Local on 18th Oct 2019.
(DAY 0 Friday 18 October  )
● Time Table ●
10:50 pm :CSMT
10:57 pm: Byculla
11:04 pm: Dadar
11:12 pm: Kurla
11:17 pm: Ghatkopar
11:27 pm: Mulund
11:31 pm: Thane
11:54 pm: Dombivali
00:03 am: Kalyan
01.18 am: Kasara
(If you miss the train you miss the trek, so make sure you are on time to catch the train.)
(Day 1 Saturday 19 October)
@Kasara :- 01:18 AM.
@04:00 Am Rich Samrad Village by Pvt      Vehicle (Mahindra Max)
@5.00Am Breakfast time
@5.30Am  Move To Ghatghar Dam and Start Ascend To Alanag Fort
@09:30 AM Reaching Alang Fort
Exploration , Photography etc.
Start Descend from Alang fort
Reach at the base and caves of Alang
Lunch Time -Chapati bhaji
At the base of Madan Fort
Atop Madangad , Explore , Photography ,
Start Descend Madan Fort.
in between Alang and Madan Fort ridge
Dinner Time -Masale Bhat/pithi Bhat
Stay in the Caves
Sleeping Time (Good Night)
(Day 2 Sunday 20 October)
@ 05:00 AM Wake up call Freshen Up
@ 05:30 AM – Breakfast time
@ 06:00 AM –  Start from Madan to Kulang Fort (04 hrs Trek)
@ 10:30 AM – Reach Kulang Fort, Exploration , Photography time.
Start descend to the base of Kulang ( 4 hrs Trek).
Reach the base of Kulang Fort
Lunch Veg Only
Move Towards Kasara by Pvt Vehicle
Reaching Kasara and then to Mumbai by available Train
● Things To Carry ● 
All items bellow are compulsory..
1)carry your Train Ticket To Kasara
2)Good haversack bag to put in all the things to be carried.Wear Full Trakpant,Tshirt or Full Shirt 2 pair
3)A bottle of water (2 ltr)
4)camera(optional), Avoid wearing Gold and other jewelry(at own risk)
5) Rainkot,Jacket,Eletrol powder,2 lemon,some snack,biskit.
6) Personal medicine & plastic bag,odomas or same brand.
7) A good Treking shoes ,towel and extra clothes, Sleeping Bag,Chadar,Torch
8)Any one original photo ID proof
9)Empty Tiffin Box,Small Plate,Bowl
●  Trek Cost ●
Per Person 2200/
Advance Fee 1000/compulsory
(Non Refundable)
No Discount Available
● Charges include ● :
@Travel by private vehicle (Kasara to Kasara) all Safety gears ,Guidance and expertise charges
@Breakfast -2 Time
@Lunch-2 Time Veg only
@Dinner-1 Time Veg only
● Charges Exclude ● :
Train Ticket,personal exp,
Anything Not mention in INCLUDES.
Kindly transfer Your Trek fee below Account Details.
● Bank Account Details ●
Saraswat Bank
Name : KIRAN PRAKASH BHALEKAR
Account No : 449203100000874
IFSC code :  SRCB0000449
Branch - Pump House, Andheri
Google Pay/Phone Pay-9082388039
●IMP Note● :
Please give your confirmation before 10th October 2019. Trek Leader Reserves the Right To Change/Cancel The Format Of The Event.Group size 30 Member.
STRICTLY NOT ALLOWED ANY KIND OF TOBACCO,ALCOHOL, DRUGS.
Do feel free to contact any of us for any queries/clarification.
We recommend you to please take care while walking / climbing / Rafting / Trekking. Wearing of any valuables, ornaments, jewelry etc. is prohibited. Mo Rock Climbing, Rappelling, Trekking or any adventure activity is potentially risky. For all these events, you are at your own risk. Organizers are not responsible for any accident or compensation in whatsoever manner. We should strictly follow the code of conduct, to avoid troubling our fellow freinds or other people from our group or outside.
Regards
Safar sahyadri Trekkers
www.safarsahyadri.com
https://www.facebook.com/safarsahyadri/
https://www.facebook.com/safarsahyadri.trekkers
https://www.instagram.com/safarsahyadri/
http://allevents.by/Safarsahyadri
(Team Leader) Wp/Call/Sms/Fb
Kiran bhalekar -     9619333915
Tushar shingare-   8976225394
Amar Gorule -        8779417367
Only administrators can add new users.