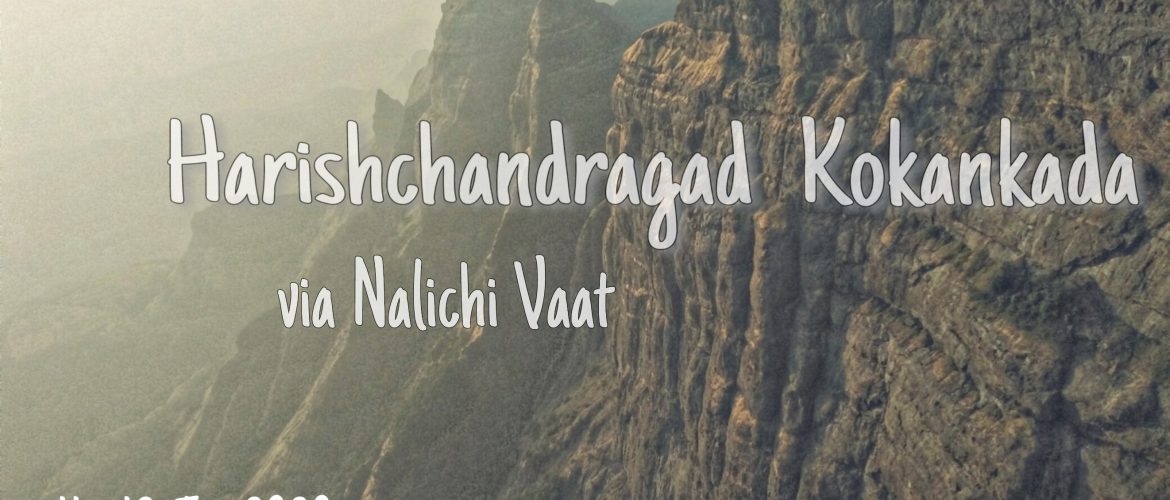 Harishchandragad via Nalichi vaat
10:00
10th January 2020
to 18:00
12th January 2020
Dear Traveler's
We Safar Sahyadri Trekkers (SST) are Happy to Invite You All For Trek to Harishchandragad via Nalichi vaat on 11,12 January 2020.
Trek Name : Harishchandragad
Region :Malshej
Height : 4,665 ft
Difficulty :High
Endurance : High
Duration : 1N/2D
● Description ●
Harishchandragad is a hill fort in the
Ahmednagar district of India.The various Puranas (ancient scriptures) like Matsyapurana, Agnipurana and Skandapurana include many references about Harishchandragad.
Walhiware a very remote village 10km inside from main Malshej ghat road which is called Nalichi vaat. This route is both technical and enduring with no water spots in between which makes this route even challenging, and needs precise management of time and water.The name nalichi vaat is given because, nal means tap in Marathi and this route is nothing but a river which brings down all the water on Harishchandragad in monsoon season and dries up in winter. So the same route we climb up to reach Harishchandragad, which takes anywhere from 6 hrs to 10 hrs depending on one's speed.
● Things To Carry ●
All items below are compulsory..
1) Empty tiffin box,Good haversack bag to put in all the things to be carried.Wear Full Track Pant,T-shirt or Full Shirt.
2)A bottle of water (3 ltr) compulsory
3)camera(optional), Avoid wearing Gold and other jewelry(at own risk)
4)Eletrol powder 2 lemon,some snack,biskit.
5) Personal medicine & plastic bag,odomas or same brand.
6) A good Treking shoes,Extra cloths
7)Any one original photo ID proof
8)sleeping bag,Chadar,blanket.
● Meeting point ● :
Kalyan Station near Ticket Counter
Date :10 January (Friday) 2020
Timing :10:00pm
● Trek Schedule ●
(Day 0 Friday 10Jan 2020)
10.00pm Meet at kalyan station.
10:30pm move towards base village by private vehicle.
12:00pm reach at base village and rest.
(Day 1 Saturday 11 Jan 2020)
05:30am Fresh up & Breakfast
06:00am Start ascending Harishchandragad via Nalichi vaat.
1:00pm Packed lunch while trekking.
5.00pm Reach Kokankada
Enjoy sunset at kokankada,Campfire
10.00pm Dinner
(Day 2 Sunday 12 Jan 2020)
5.30am Wake up call
6.00am Breakfast
6.30am Start trek towards Taramati peak
7.30am Rich on top
8.00Am Start Descending Towards Harishchandreshwar Temple.
Visit Harishchandreshwar Temple, Kedareshwar Temple, Pushkarni, Caves.11:30Start descending via Pachanai route
1.00pm Reach at base village
1.30pm Lunch time (Nonveg-Veg)
3.00pm Start return journey towards Kasara.
6.00pm Reach at Kasara railway station and End Trek with Golden Memories..
● Trek cost ●
Cost -1700/
Advance -1000/ Compulsary
No Discount
First come First priority
Kindly transfer Your Trek fee below Account Details.
● Bank Account Details ●
Saraswat Bank
Name : KIRAN PRAKASH BHALEKAR
Account No : 449203100000874
IFSC code : SRCB0000449
Branch - Pump House, Andheri
Google Pay/Phone Pay-9082388039
● Cost include ● :
Kalyan to Walhiware and pachnai to Kasara private vehicle Return.
3 breakfast (veg)
1 Lunch Saturday (Veg)
1 Dinner saturday (veg)
1 Lunch sunday (Nonveg-Veg)
Tent stay(sharing besis) charges
Expertise charges
● Cost Exclude● :
Train Tikit, personal exp,
Anything Not mention in INCLUDES
●IMP Note● :
Please give your confirmation before
5th January 2020. Trek Leader Reserves the Right To Change/Cancel The Format Of The Event.
Group size 30 Member.
STRICTLY NOT ALLOWED ANY KIND OF TOBACCO,ALCOHOL, DRUGS.
Do feel free to contact any of us for any queries/clarification.
We recommend you to please take care while walking / climbing / Rafting / Trekking. Wearing of any valuables, ornaments, jewelry etc. is prohibited. Mo Rock Climbing, Rappelling, Trekking or any adventure activity is potentially risky. For all these events, you are at your own risk. Organizers are not responsible for any accident or compensation in whatsoever manner. We should strictly follow the code of conduct, to avoid troubling our fellow freinds or other people from our group or outside.
Regards
Safar sahyadri Trekkers
www.safarsahyadri.com
https://www.facebook.com/safarsahyadri/
https://www.facebook.com/safarsahyadri.trekkers
https://www.instagram.com/safarsahyadri/
http://allevents.by/Safarsahyadri
(Team Leader) Wp/Call/Sms/Fb)
Kiran bhalekar - 9619333915
Tushar shingare- 8976225394
Amar Gorule - 8779417367