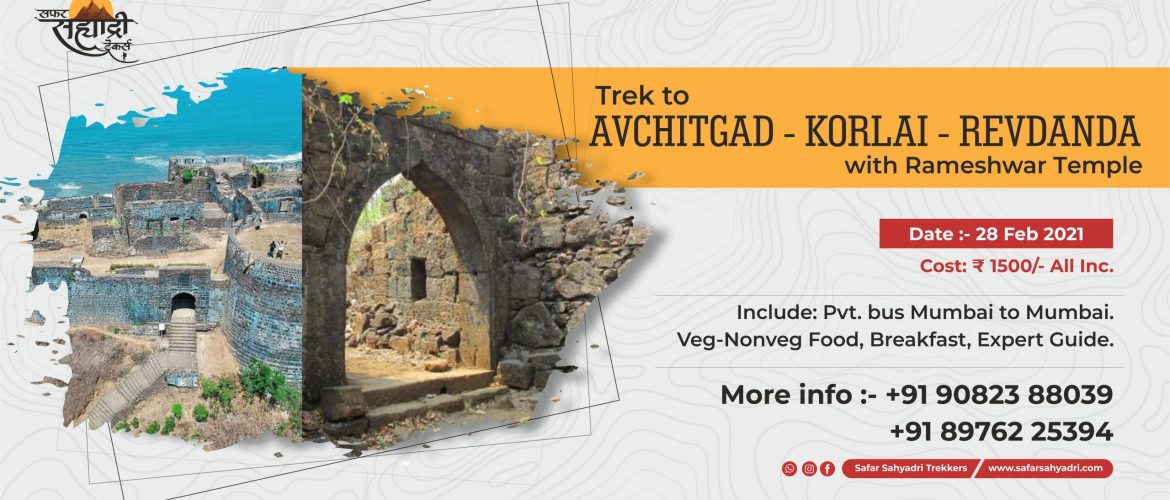 Avchitgad-Korlai -Revdanda Trek ( kokan Safar )
22:00
27th February 2021
to 23:00
28th February 2021
Dear Traveler's
We Safar Sahyadri Trekkers (SST) are Happy to Invite You All For Trek to Avchitgad-Korlai -Revdanda
With Rameshwar Darshan on 28 February 2021.
Trek Name : Avchitgad-Korlai-Revdanda Fort with Rameshwar Temple visit..
Region :- Alibag
Difficulty :Medium
Endurance : Medium
Duration : 1Night 1Day
Category : Trekking
▪︎About▪︎:-
Avchitgad Fort :-
It is the most famous attraction and one of the most visited places in Kolad. It is a hill fort which is situated in Roha town of Raigad district and is surrounded by Sahyadri mountain ranges. People go on Avchitgad fort trek that goes through lush green forests making it a worthwhile experience for the trekkers. It is widely famous for its beautiful architecture and the amazing history that is associated with it.
First come first basis.
Korlai Fort :-
The Korlai Fort is an extensive military fortification primarily occupied by the Portuguese during the 1500's. Currently, in ruins, the mighty fort stands strong overlooking the vast blue of the Arabian Sea. Built in 1521, on an extension of land (basically an island) shielding the Revdanda creek inlet, the island was once called Morro De Chaul, in which 'Morro' translates to a small hill, and 'Chaul' refers to a nearby Portuguese-Creole (a dialect called Kristi) speaking village. A great construction of its time, this fort now stands in ruins but is a fabulous piece of history nonetheless. The beauty of the surrounding hill slopes is another incentive to visit this destination.
Revdanda Fort:-
The fort is located at the mouth of the Kundalika River. It is easily accessible by road. The Alibag-Murud road passes through the fort. Earlier the fort was guarded on three sides by creek water. The main entrance is from the southern side.This fort was built by Portuguese Capt. Soj, and completed in 1524.It was in the control of Portuguese till 1806 when it was captured by Marathas. Finally it was captured by British in 1818.
▪︎The itinerary for the event is as follow▪︎:-
(Day 0 Saturday 27th February 2021)
▪︎ Meeting point▪︎ :
Borivali National Park (Main Gate)
Timing :10:00pm
Pickup points will be Borivali,Andheri, sion,Vashi,panvel
Time will be share separately.
(Highway to Highway)
(Day 1 Sunday 28 February 2021)
Reach Base village by 03.00am&Rest
05.30am Have bf/tea and freshen up
06.00am start trek immediately after short brief.Walk through a beautiful trail passing through a dense forest.
08.00am Reach at top and explore the fort.Explore the temples, bastions, water cisterns and other ancient remnants atop the fort.
10.00am Start descending
11.30am Move towards Korlai Fort
12.30pm Start Ascending korlai
Explore & Photography
03:00 pm - Reach at base village and have lunch.(veg-non veg)
4.00pm Move towards Revdanda
Visit to ancient Rameshwar Temple
Start Ascending Revdanda Fort
Explore & Photography
Revdandas Famous mesmerizing sunset.
07.20pm Start Return journey towards Mumbai
11.30pm Rich Mumbai
(Depending on Traffic )
Trek end with happy memories
▪︎Trek Cost▪︎
Cost - Rs.1500/ with transport
Advance Fee 700/compulsory
(Non Refundable)
No Discount Available
• Charges include • :
▪︎Mumbai (Borivali) to Base Village & Return transport by non ac pvt bus.
▪︎breakfast,Lunch veg-nonveg
▪︎Evening Tea
▪︎Others - Guidance, Expertise and Basic First aid.
▪︎ Charges Exclude▪︎ :
Personal exp,Anything Not mention in Include.
Kindly transfer Your Trek fee below Account Details.
Bank Account Details
Saraswat Bank
Name : KIRAN PRAKASH BHALEKAR
Account No : 449203100000874
IFSC code : SRCB0000449
Branch - Pump House, Andheri
Google Pay/Phone Pay-9082388039
▪︎Things To Carry ▪︎
All items below are compulsory..
1)Two Mask and Sanitizers
(Compulsory & Keep it handy)
2)Good grip shoes,sliper (Compulsory
( floaters are not allowed)
3)A bottle of water (2 ltr) compulsory
4)camera(optional), Avoid wearing Gold and other jewelry(at own risk)
5) Personal medicine & plastic bag,odomas or same brand,Torch compulsory.
6)Extra pair of cloths if required by you. (Double Wrap in plastic bag avoid drenched)
7)Any one original photo ID proof
8)Some ready eat food like plum cake, biscuits, fruits,Paratha/Thepala/Boiled Eggs etc,Glucon-D or Electrol
9)Full Sleeves T-Shirt & Full Trek Pant.
▪︎Rules & Regulations ▪︎
1)Any changes in the plans will be redirected by organizers in a emergency situations.
2)In case if any individual / group unable to attend event at last moment then no refund will provided.
)Event schedule are tentative basis as if many change, depend on various factors (meeting/traffic/trek time) etc
4)It is mandatory for all of us to wear masks while traveling and wandering. Also bring your own sanitizer, mask.
5)Avoid going to any places, local huts houses or try to communicate with locals.
6)For confirmation of seat advance booking required.
7) The leader's decision will be final and binding on all members.
STRICTLY NOT ALLOWED ANY KIND OF TOBACCO,ALCOHOL, DRUGS.
Do feel free to contact any of us for any queries/clarification.
We recommend you to please take care while walking/Trekking//Tour Wearing of any valuables, ornaments, jewelry etc. is prohibited. Organizers are not responsible for any accident or compensation in whatsoever manner.Do not carry valuable,unnecessary things for Trek.Do not go to any risky place , you should follow rules set by organizers. Organizers will not be responsible for any loss during trek.Respect Nature,History, Local Culture And Enjoy the Trek.
▪︎Regards▪︎
Safar sahyadri Trekkers
www.safarsahyadri.com
https://www.facebook.com/safarsahyadri/
https://www.facebook.com/safarsahyadri.trekkers
https://www.instagram.com/safarsahyadri/
http://allevents.by/Safarsahyadri
Kiran bhalekar - 9082388039
Tushar shingare- 8976225394
Amar Gorule - 8779417367